Moving as an artistic process
Artistic residency organized by the architeture collective L'Escaut  with the Teatro da Vertigem company
Brussel, 2012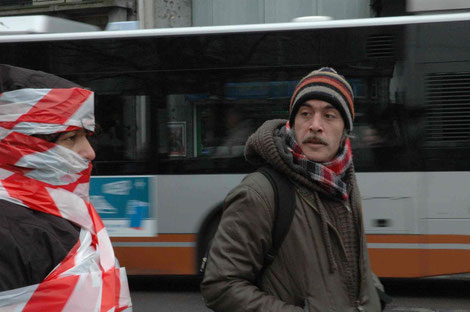 In the Tram 51, a man tied up in safety tape comes and goes. On the way, five women, tied to posts, watching the tram passage... And passerbys wonder.

That was the proposal of the Teatro da Vertigem, made on 18 January 2012, after 10 days of exploration and analysis of the Molenbeek district of Brussels.
Exhibition post-residency. Video and sound installation.
L'Escaut, Brussels/São Paulo, may 2012.
Recordings, soundtracks.
Projection of skype window from São Paulo.
I made many recordings during this residence. Some of them were broadcasted on the Festival Open House in Brussels. The architecture collective l'Escaut recounted his history and shared his experience with the company Teatro da Vertigem.
Many recordings were used as material to create new soundtracks, others were kept intact as listening the speech of these persons is a special experience in itself ...

I also proposed to open a Skype window from São Paolo to retransmit the sound and image of the city in the building during the time of the exhibition.
Espace P-Aerschot street. Superposition.
- Atmosphere. Visiting Aerschot street, better known as the street of store fronts, where prostitutes are exposed as commodities.
- Reading Notes. Meeting with workers of "Space P": help, support and dialogue association for prostitutes in Brussels and Belgium.