Becoming
Two installations of several videos questioning the imagery of the Sahara Desert and the concept of travel ...
Grenoble (France), 2007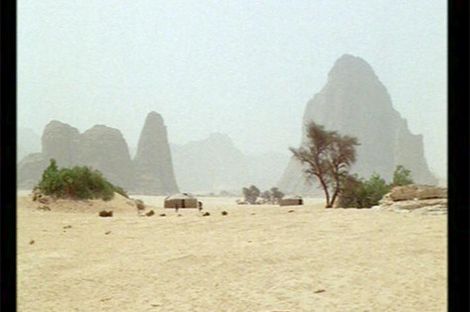 Becoming #1, installation of 6 videos in a loop on monitors
 Another desert, a false trip, to leave without moving. My starting point for this work, was to use and dissect images associated with the inhabitants of the Sahara, drawn from films, fiction or documentary. 
When visiting a country as a tourist, we take pictures of ourselves with a paradisiacal landscape in the background.
Here, I put myself in the Tuareg's place, but in a studio setting.
I reproduce the surface, I interpret what I see, I play the comedy of my own perception. In my film, daily situations become a game, a play. Repetition and imitation do not give meaning to my actions, they show the nonsense.
Becoming #2, installation of four videos projected on a "tent"
Another way of playing with imagery, using the essential pattenrs of the desert like water, silence, horizon, time ...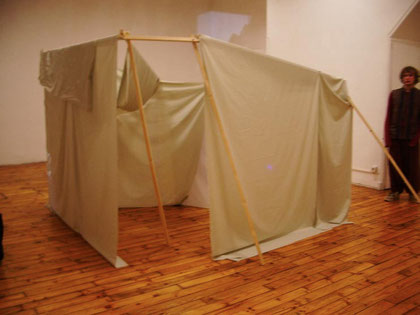 Becoming #1, suites
Hollow gestures out: no more meaning, nothing more than an abstract sign.